ABOUT US
Hello my name is Nicholas Walker a small business owner in Frederick, Maryland, a member of The American Legion and supporter of American Legion Riders FSK Post 11. I was visiting an Air Force friend of mine at American Legion Post 273 in Madeira Beach, Florida. We were talking about PTSD and Veteran Awareness
On the way home thinking about our conversation I noticed a lot of pull trailers traveling I-95. When I returned home, I purchased 3 enclosed pull trailers. (4 X 8, 5 X 10 and 6 X 12) and created "PULLING FOR VETERANS" awareness trailers, rolling billboards, if you will and started loaning them out educating and bringing awareness to PTSD, and the 22 Suicides a Day.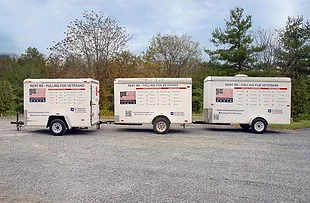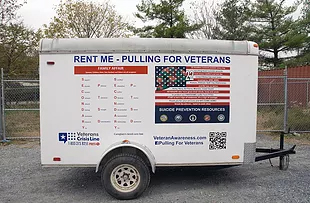 A legal friend of mine told me loaning the trailers our puts me at a lot of liability if something happens. So I started a LLC company. The idea was born, As founder of Dollar an Hour Trailer Rental, LLC. We rent trailers bringing awareness to PTSD, for a $1.00 an hour ( 4 X 8 Enclosed Trailer), $1.50 an hour ( 5 X 10 Enclosed Trailer), $2.00 an hour (6 X 12 Enclosed Trailer) + $10 damage liability waiver per trailer, per 24 hour period. So Awareness Trailers turned into a mission. $1 an hour - It's more about the MESSAGE than the MONEY.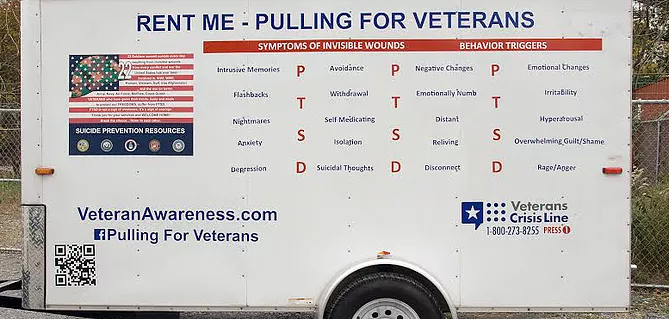 Our campaign is simple.
I and other local veterans, businesses, friends, and veteran organizations help blasts it out on social media, Facebook, etc. As social media does its thing, the way it works spreading the news of educating and bringing awareness to the populace. The populace (small contractors, veterans, friends, home owners, etc.) will rent a trailer to go pick up large purchases, or landscaping projects, or take your motorcycle to??? 100% of trailer rental income helps assist veterans.
I have a small business with little bit of land to rent 3 trailers out to help educate and bring Awareness to the 22 veteran suicides a day (PTSD). And as a member of the American Legion, every Veteran Service Organization has a member like me that has a small business with a little bit of land for 3 trailers. Who is your member with a little bit of land?
If you would like to help, please send us message with details.